INFINITE PASSION
"I LOVE TESTING AND DEVELOPING EVERY DETAIL UNTIL PERFECTION!"
Dany Bruch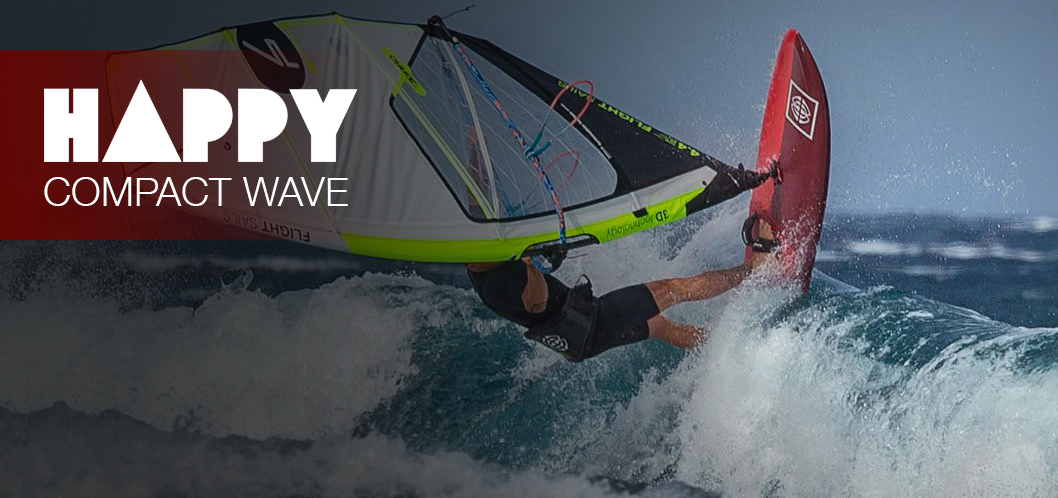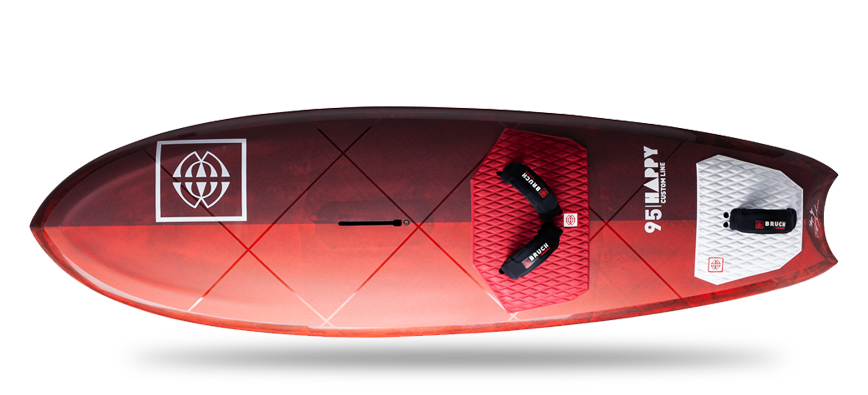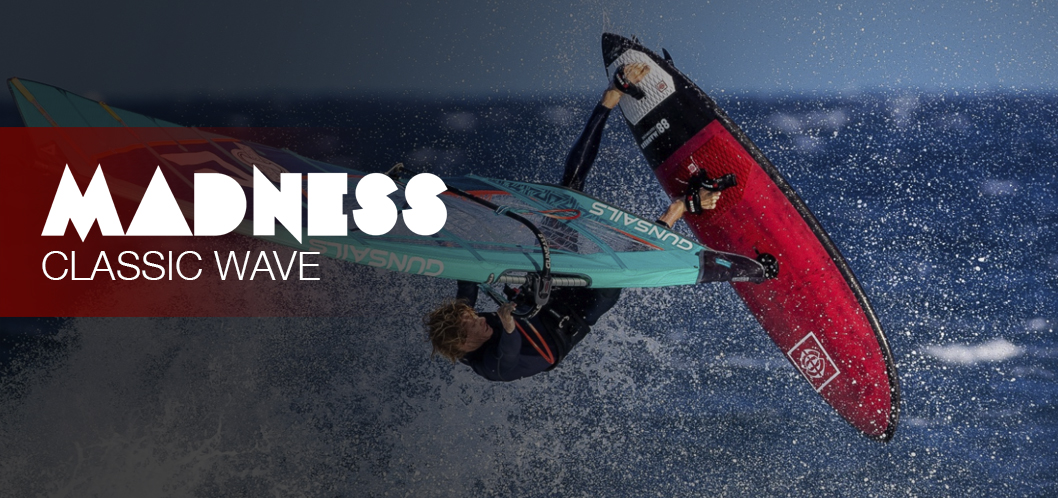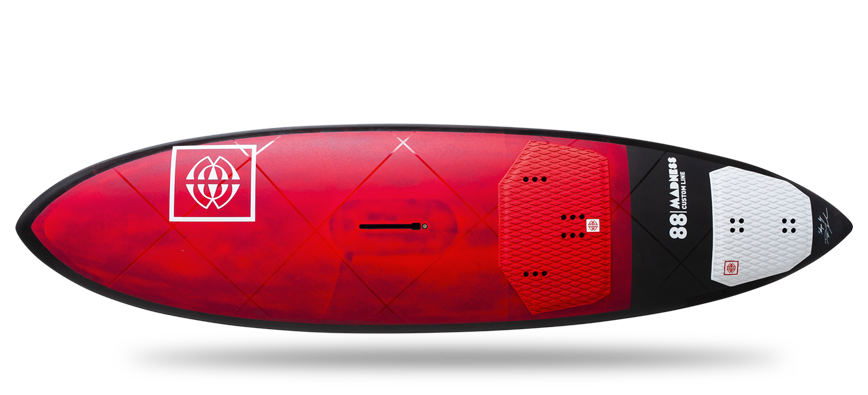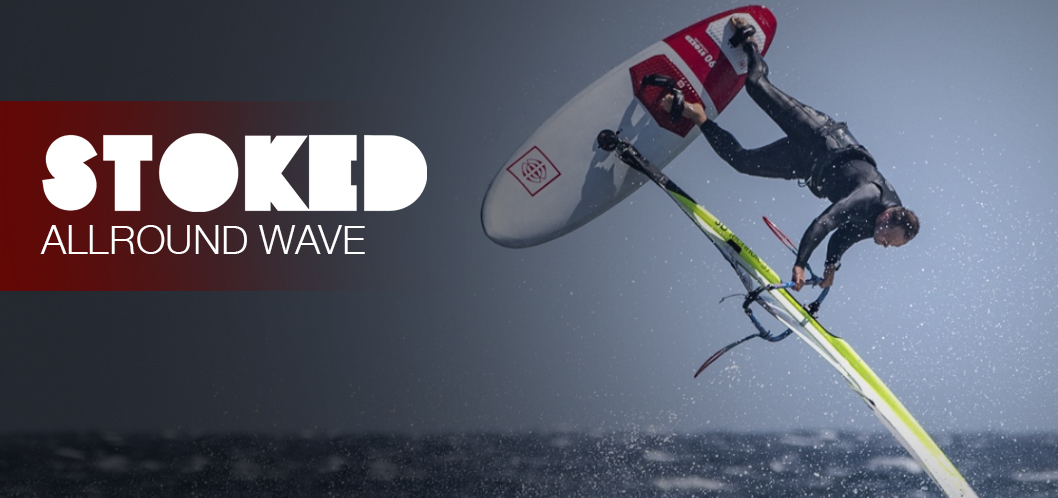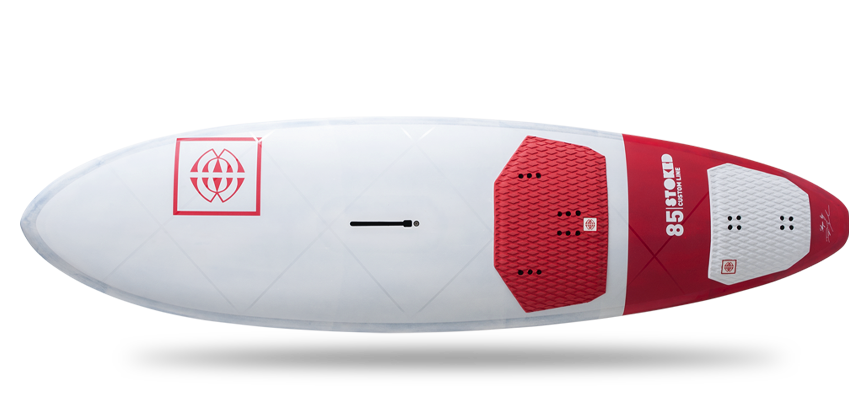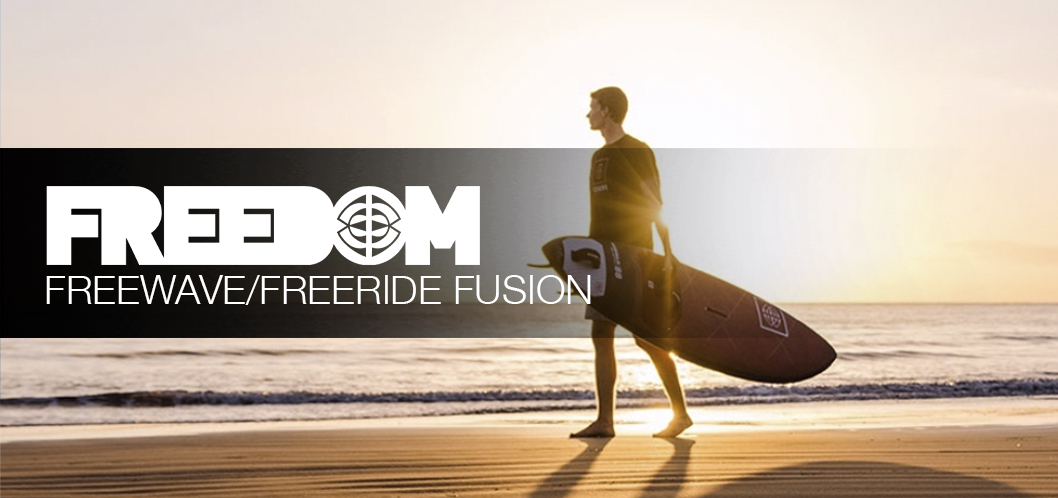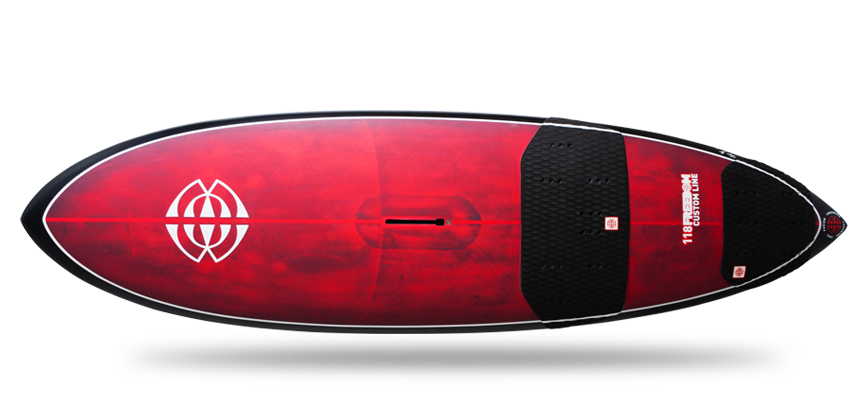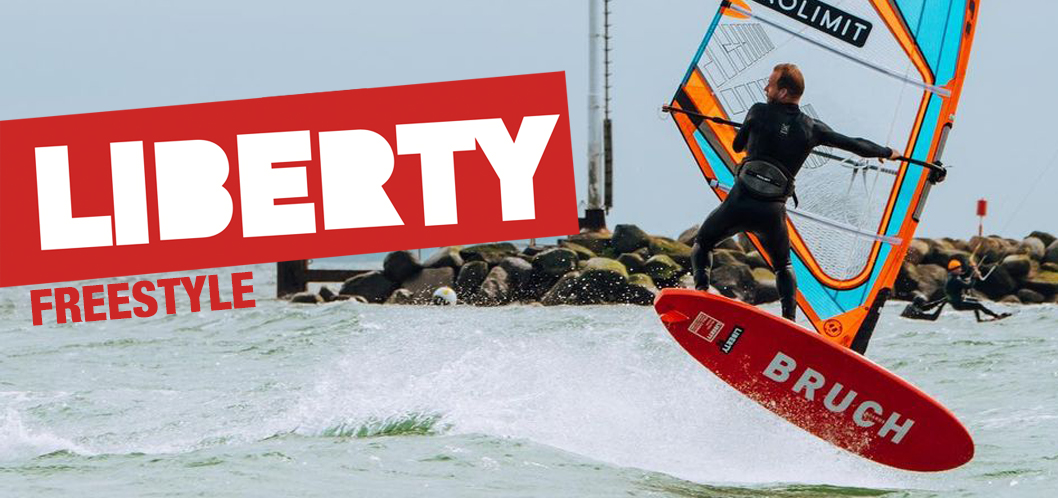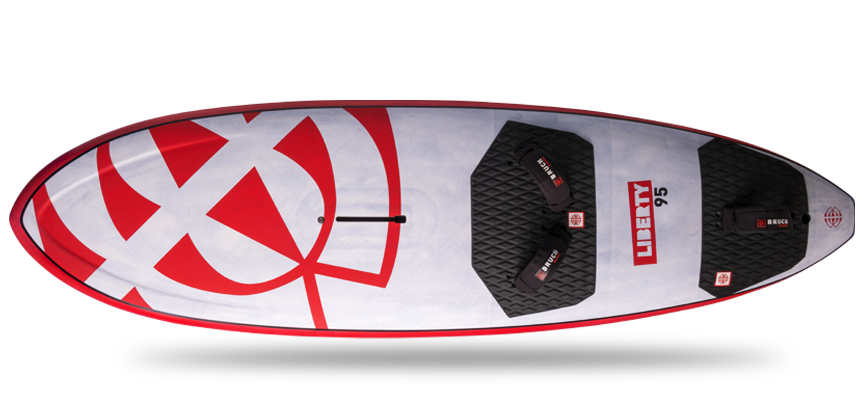 bruchboards.flywheelsites.com/happy/
bruchboards.flywheelsites.com/madness/
bruchboards.flywheelsites.com/stoked/
bruchboards.flywheelsites.com/freedom/
Board view
Layers view
No compromise:
Built to last - 100% full biax carbon deck and bottom construction.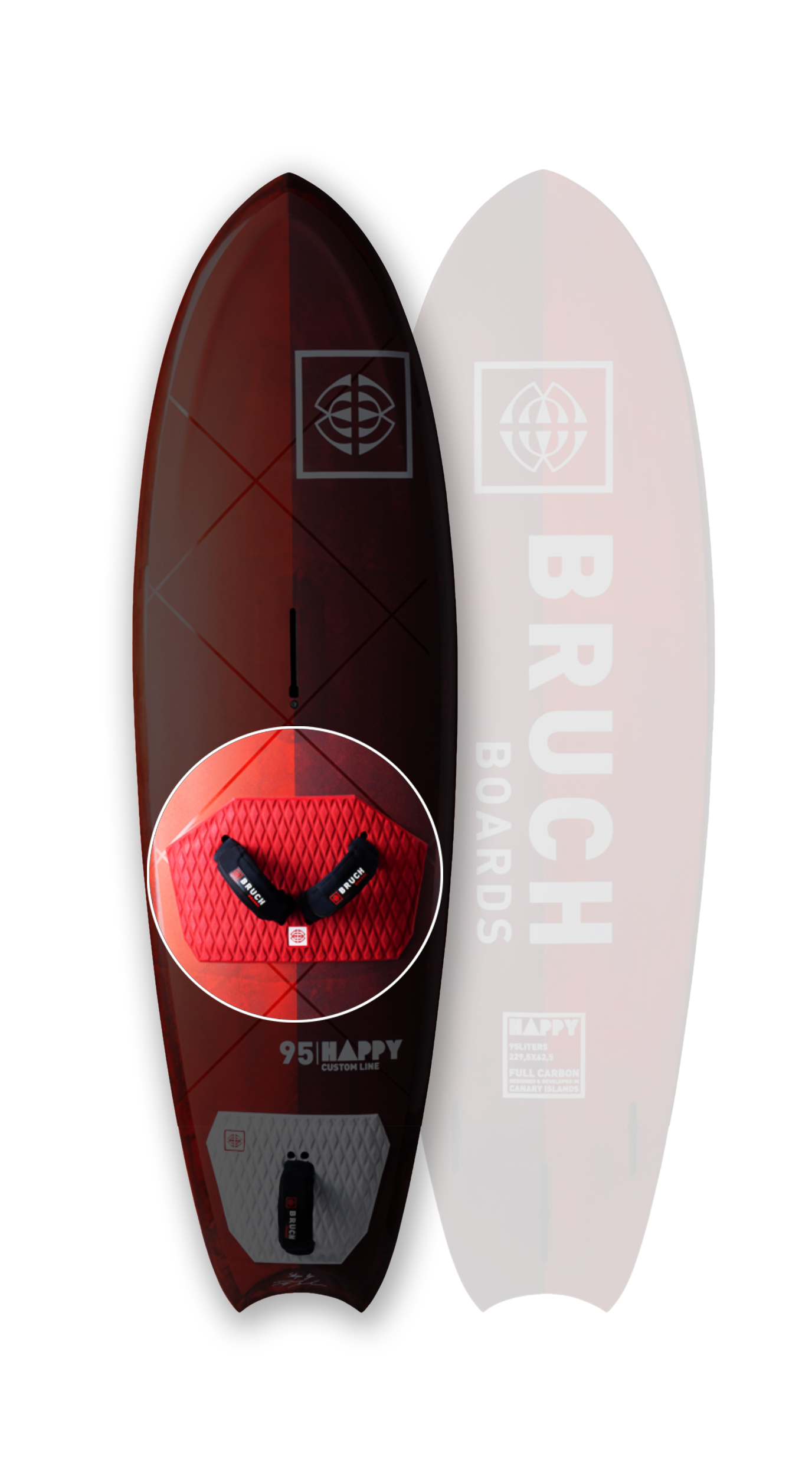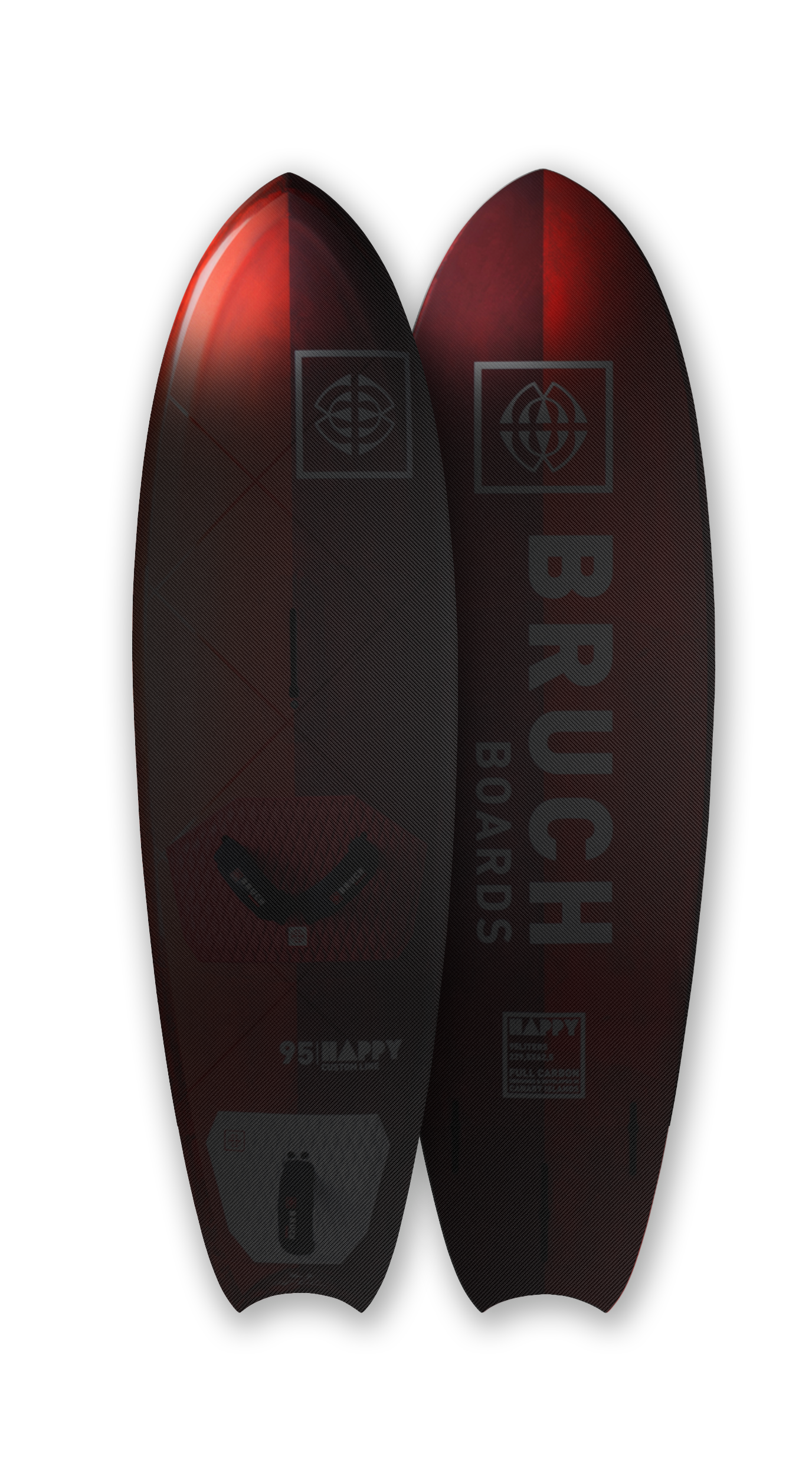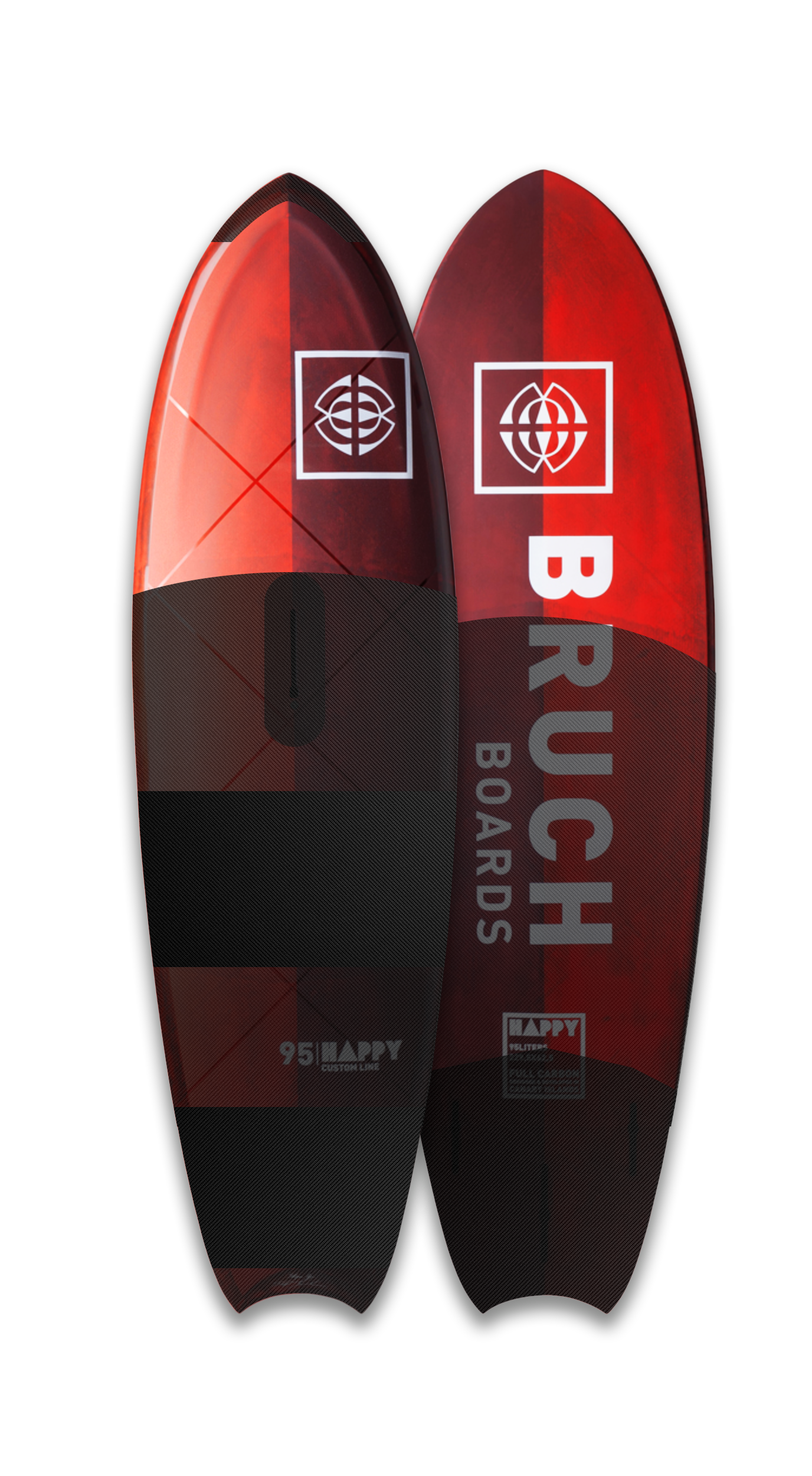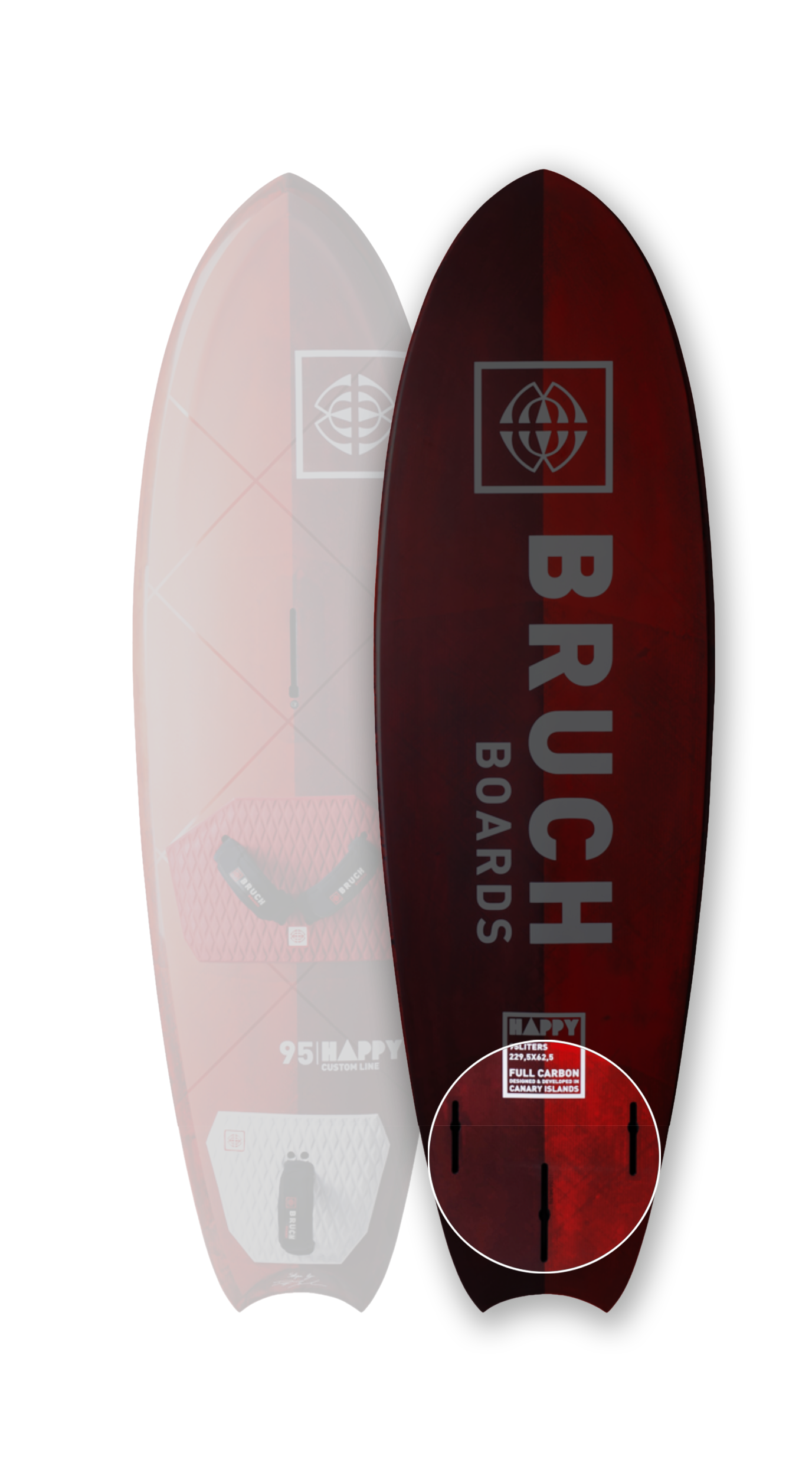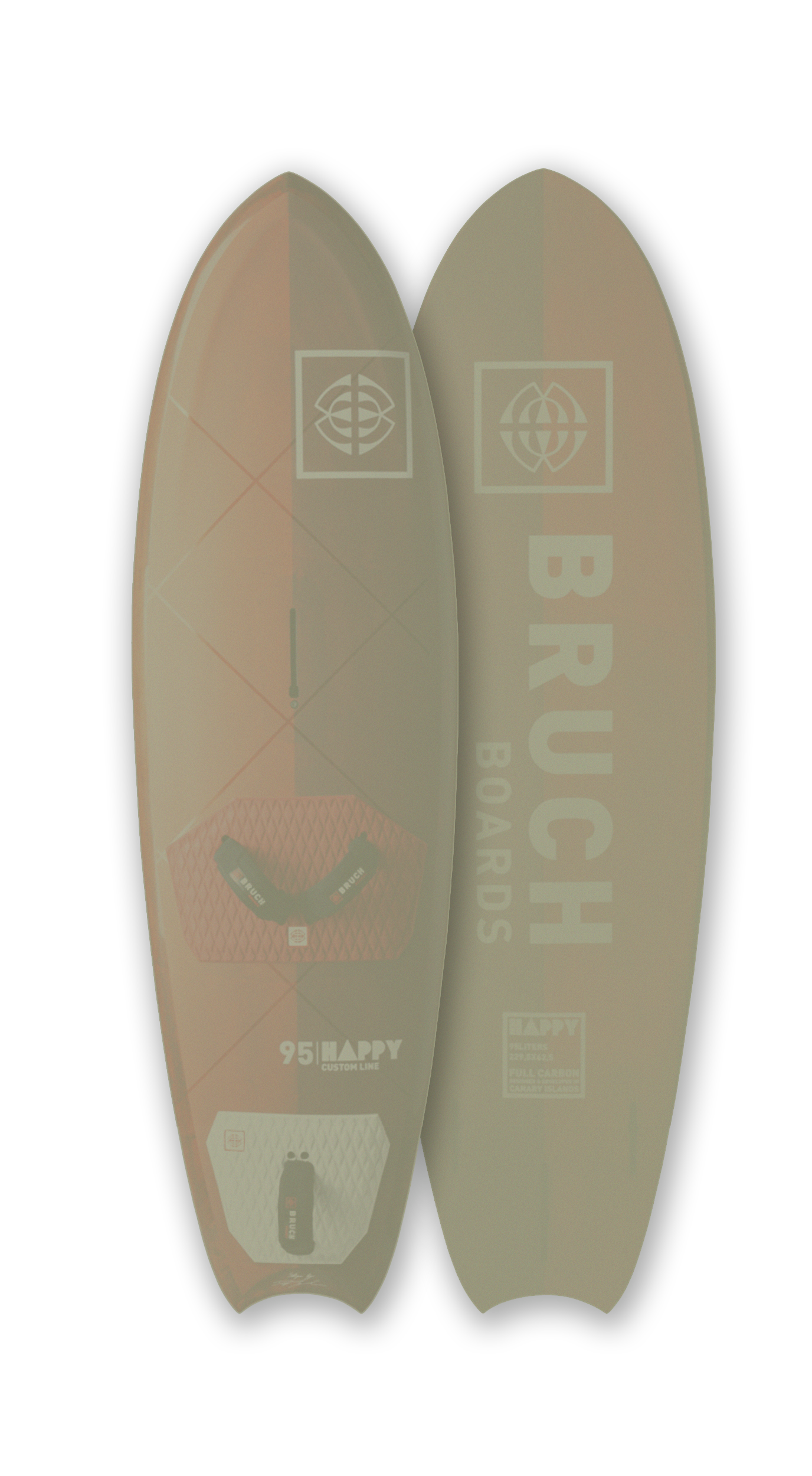 PREMIUM FULL BIAX CARBON

TECHNOLOGY

Click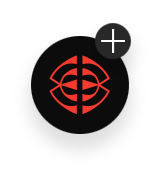 for detailed technology information or check out Dany's tech-talk video.
Next-level windsurfing board technology
Our Premium Responsive Carbon Construction (PRCC) is the result of many years of experience and hard work, dedicated to finding the perfect combination of light weight, flex and durability. It is used exclusively in all our boards.
While our competitors offer a wide range of constructions on different quality levels, our goal has been to solely develop and build the best windsurfing boards possible, to enjoy for many years.
At Bruch Boards we only use the most exclusive materials, taking our Responsive Carbon Technology to a quality level unmatched on the windsurfing market.
Pigments in the Resin and Ceramic Gel Code for the Rails
In the final lamination process we use color pigments to put into our resin, this way we hardly use paint sprayed onto our boards. To be exact, we use only 60 grams of paint for the whole board. Like that we reduce the weight and avoid paint chipping off when touching sharp objects, to maintain a great look for a long time.
The final touch are the rails: We add a ceramic gel code to harden up the first layer, which is the most exposed to scratches, when putting down your board coming off the water. We want your board to maintain a shiny look for many many years!
Premium Bruch pads & footstraps
High quality straps with double velcro for adjustments and a stiff strong belt inside to maintain a well shaped, round strap on the board.
This will allow you to always keep the feeling of control trough your feet. The board will react immediately once you initiate any type of pressure onto it, either for your bottom turn, top turn or gybe. Soft neoprene around the stiff belt and no hard edges, a joy for your feet that you will always appreciate. Once in the strap, the combination of 5mm sponch for softness and 6mm "HPE" pad will surprise you in therms of grip and comfortableness.
Deck & bottom 100% Biax Carbon 45º
We only offer 1 technology, because it is the best in performance, durability, flex and to maintain the "alive" feeling of the board. The "Responsive Carbon Construction".
The "Responsive Carbon Construction", is a full "Biax Carbon 45º" lamination of the deck and bottom of the board.
45º means, that the webbing of the carbon fibers, on the carbon matt, have a 45º angle when they are webbed together.
Applying this onto the board in a unidirectional way during the lamination process, thanks to this 45º angle, you will reduce stiffness and will allow the board to have a certain amount of flex, which is important when landing a jump or initiating a bottom turn or jibe.
All we want is a smooth ride!
Biax Carbon Reinforcements
We don't safe in materials, it's more, we have some extra layers, all in Biax Carbon 45º, to reinforce the parts that suffer the most, to give durability and an extended life to our boards.
The first reinforcement layers go to the traditional parts: the area under your feet, from rail to rail across the whole length (to give the whole board more strength). Then the mast track, nose and tail will have their patches as most boards use to have.
We add another full layer of Biax Carbon 45º, all the way from the tail, until the front of the mast track area, protecting the board up to the part where we step while tacking. That way nothing can get soft, no matter how many times you step on all standing or walking areas of your board. On the bottom, the fin boxes will have a full layer, from tail to the upper part of the boxes. The extra magic: To avoid the typical damage in the jumping and landing areas, that usually get more pronounced or where boards even bend, after a longer time of usage, specially when jumping a lot, we add another full layer of Biax Carbon 45º, from tail to all the way up to the center of the board.
Breakage is not allowed in our philosophy!
The Sandwich Method
The sandwich method is nothing new in windsurfing board construction. There are several different types, densities and brands/suppliers of the Airex or PVC sheets used to create a more resistant shell, protecting the shape of the EPS.
The big difference is the thickness used of those Airex/PVC sheets: We find that the perfect compromise of durability and weight is 5mm for the bottom of the board and 3mm for the deck.
Heavy duty inserts, fin boxes and mast track
All our inserts, like fin boxes and the mast track, are put into an extra Airex/PVC block, so that these parts can never cause you an issue, no matter how long you have used your board.
Hard landings, or heavy hits on the rocks, will be taken just like that.
The EPS
The EPS core of each board is CNC-shaped and finished by hand, where the shaper uses precise templates to verify each step, guaranteeing the 100% accuracy of the shape.
Glass and Unidirectional Carbon
The EPS will get reinforced, before the "sandwich" goes on, with another layer of carbon on the deck. This time it's another high tech material that does not create any conflicts with the flex of the Biax Carbon 45º, the Unidirectional Carbon, a carbon that has full flex in direction of the length of the board, but full strength in the direction across the board, from rail to rail. Thanks to this material, the core or heart of our boards stays intact, no matter how long you use it.
A thin layer of glass always has to be added to any carbon. Carbon fibres, after a long time of usage, start to splinter and break, but thanks to the glass layer, this just can't happen. Once again, this will extend the life of your board considerably.
Personal Shopper
Get personal advice from Dany with our Personal Shopper service. Dany is not only developing some of the hottest windsurfing boards on this planet, but also loves to talk to his clients to help them find their individual dream-board.

Imagine entering your favourite surf-shop, with Dany Bruch being your personal shop-assistant. Wouldn't that be cool? And who could be more qualified than Dany to help you find that perfect board for you?

Bruch Boards "Personal Shopper" chat sessions are 100% free of charge, with no compromise, and part of our core philosophy to offer the best client service of the industry. Schedule your slot now, find your personal dream-board!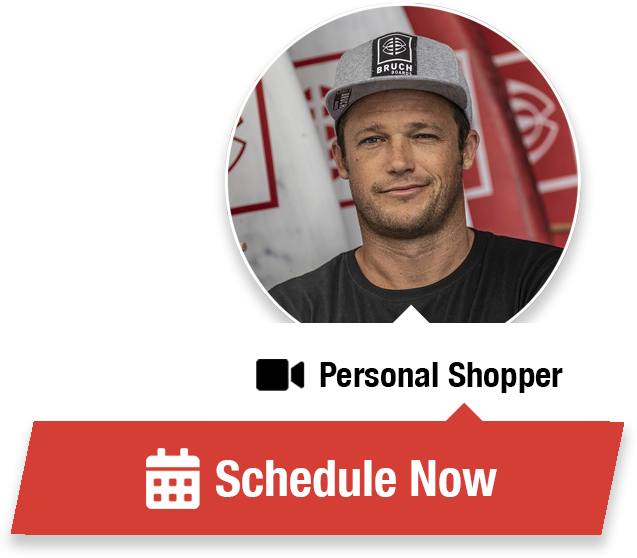 75 litre Happy (very Happy)
Dear windsurf addicts, first and foremost this review wouldn't have happened without Dany's incredible attitude and desire to help me to just test the board. Summary and vivid impressions: All-round quiver killer, with wave and turn orientation. Inspires confidence with its stability also in the gybe, unique (for me) volume distribution as it planes very
…
Dear windsurf addicts, first and foremost this review wouldn't have happened without Dany's incredible attitude and desire to help me to just test the board.
Summary and vivid impressions: All-round quiver killer, with wave and turn orientation. Inspires confidence with its stability also in the gybe, unique (for me) volume distribution as it planes very early and behaves on a wave like a toy. 5.0 DT Super hero and 75 litres, 65 kg. Would love one also for the Black-Sea onshore conditions where we get 14-20 knots with 2 metre waves on the rare better days.
'Emotional' long version follows:
I was for only 4 days on Tenerife and wanted to do the most out of them. The day – 25th March 2023- started with 16 to 20 kts conditons for a few hours and picked up to 22 – 26 kts.
I am a 65kg, intermediate sailor, owner of a 80ltr tabou Da Curve. and went on 5.0 Super Hero and 75 litre Happy.
First thing – aside from the pleasant paintjob it strikes as a strongly quality build board. You hit someone with this thing on or off the water and they are not walking away….but the board is. Jokes aside the board looks well thought of with some visible construction reinforcements. Bruchfest.
You know how on the water sometimes conditions are mediocre, like you are wondering if you can waterstart. In such conditions the board impresses with stability and planning, early planning – makes you feel like a wizard. I was the only one in Cabezo. Not on a 100 litre but on a 75 litre board…You pump, point it downwind as they say and you go.
Did I say it was stable? Not just in straight line – in the gybe it makes you just do a smooth arch. You flip the rig at the right moment and you get out planning.
Turns – well this board just gives you freedom and reinforces your lust for turning and wave windsurfing – not only because it allows you to plane and get to the wave pocket on time but also because I can turn it from both front and back legs to radically high-five the lip. I like it way more than the Quatro Super Mini. It is in another league as it behaves mm very very lively.
These qualities have been confirmed also in the stronger to overpowered conditions. I personally loved that the board's width didn't even for a second make it hard for me in the chop of changing tides and stronger winds. And just got better on the waves. Somehow it made me feel more secure and I could lie down in the wave turns radically without getting a nosedive or tipping over the rail – something I do with my Tabou when I get too excited.
Last but not least helped me a lot on my flat, low-wind forward loops as provided my back a broader more stable base to pop from.
I am honestly amazed. No more words – test for yourself.
Andrey Nikolov
This error message is only visible to WordPress admins
Error: Access Token is not valid or has expired. Feed will not update.